How to Activate Office 365 – The Exact Process to Follow
Microsoft Office 365 consists of a variety of productivity applications like Excel, PowerPoint, MS Word, and Outlook. MS Office 365 is the most recent version of the Microsoft Office edition. It comes with the Home and Business plans. The application gets updated regularly. So, you don't need to purchase and install the latest version repeatedly manually. It has also moved to a subscription-based model. It has created some confusion among buyers about how its license should be activated. They desire to know how to activate Office 365. In this article, you'll find the exact process of activating the Office 365 application so you can start using it.
 Also, You can Read How to Activate Visa Gift Card
How to Activate Office 365?
To start the process of activating Office 365, you will need to purchase a subscription to Office 365/Microsoft 365. Then, log in to your MS account in an Office 365 application on your system. You can purchase the Office 365 subscription from https://www.microsoft.com/en-us/microsoft-365/p/microsoft-365-family/cfq7ttc0k5dm?activetab=pivot:overviewtab. There are numerous plans, so you can easily choose one that fits well with your requirements. You need to use the Microsoft account for making the purchase. Remember to not forget the account you are using to make the purchase so that you can activate your apps later. 
Steps for Activating Microsoft Office 365
Now that you have purchased the subscription, you need to activate it. Follow the steps below to activate Microsoft Office 365. 
Download MS Office 365. You will get the prompt to log in with your Microsoft account before you can start downloading the installer. 

Now, install MS Office 365. 

Next, you can open any Office 365 app, like Microsoft Word. 

You will view a sign-in screen. If you aren't able to view it, tap the option of '

Sign in

' present on the top right part. 

Login with that MS Office account that you used to purchase the subscription.

Start the application again. Your subscription will get activated. 
How to Activate Microsoft Office 365 Using Product Key
You can activate MS Office 365 application through an account. However, if the account is connected to a work email, you can activate it through a product key. To get a product key for Office 365, you require an MS 365 subscription that you bought through your work email. Apart from that, the work email should be associated with the company managing subscriptions via the Home Use Program. 
To get the Product Key navigate to https://www.microsoft.com/en-us/home-use-program/order-history?rtc=1. Input your email related to the subscription purchase and open your inbox to find an email having the product key.
Here are the instructions to activate Office 365 using a Product Key.
Install Microsoft 365 on your computer.

Run the application.

Tap '

Sign in

.'

Next, hit the option '

I don't want to sign in or create an account

.'

Input the product key in its field.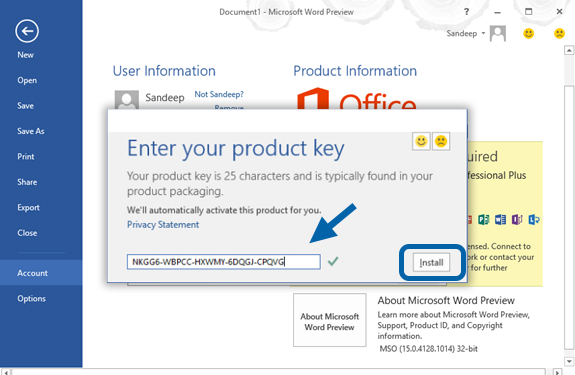 How to Activate Office 365 for Free 
You can activate Office 365 free for a period of one month or thirty days. Note that you must have Windows 10 activated on your system before you activate it. Also, you require to activate MS Office within a period of 180 days from the time you installed the Windows operating system. Ensure to log in with your Microsoft account. Now you can follow the steps below to activate MS Office free for a period of 30 days. 
Create a new Office account or sign into your existing one. 

Type in your password and after that tap '

Sign in

.'

To continue, tap '

Start Free 30-Day Trial

.'

Now, tap '

Try 1 Month Free

' for progressing further. 

Tap '

Next

' to continue. 

Finish the process of activation. 

Tap '

Refresh

.' 

MS Office 365 is activated. You can now start using it. 
Benefits of Activating and Using Microsoft Office 365
As mentioned before, one of the best advantages of using the latest version of Microsoft Office 365 is that you don't require to purchase the updates frequently. It also has a lot of other great benefits over the Office 365 basic edition. These include the following.
You will receive 1TB of OneDrive storage. 

It consists of 12 applications. 

The program also has apps like Word, Excel, OneNote, PowerPoint, OneDrive, Whiteboard, Outlook, and Publisher. There are also Forms, Delve, and Sway. All of these apps come with premium features. In contrast, the basic edition only has seven apps, and all of them only have basic features.
Final Words
Hopefully, you will now have no doubts about how to activate Office 365. Follow the various steps mentioned in the article and activate your subscription. You can also activate a one-month free trial and use the program. If you face any issues n activating or using Microsoft Office 365, feel free to contact Office 365 customer support services. The professionals will help you start and set up this program effectively.